The Windy City becomes a more and more popular tourist destination every year. Everyone knows about Chicago landmarks like Willis Tower and Millennium Park, but there are a surprising number of family-friendly activities throughout the city as well. Read on to find out more about what the city has to offer for families and kids of all ages.
Navy Pier
No vacation in the city is complete without a family-friendly visit to this Chicago institution. Navy Pier offers a huge variety of activities for people of all ages, but kids and teenagers will be especially excited to go for a ride on the Centennial Wheel. Standing at nearly 200 feet tall, this massive Ferris wheel is a Chicago icon, offering unparalleled views of the city and of Lake Michigan. Even in winter, thanks to the enclosed gondolas that transport riders high up into the sky, taking a ride on the wheel is a great choice for the whole family. The pier offers a variety of other amusement park rides, like the Pepsi Wave Swinger, a classic swing ride, a VR experience that takes riders on an adventure through the city, and a carousel designed exclusively for the pier to hearken back to its early days in the 1920s.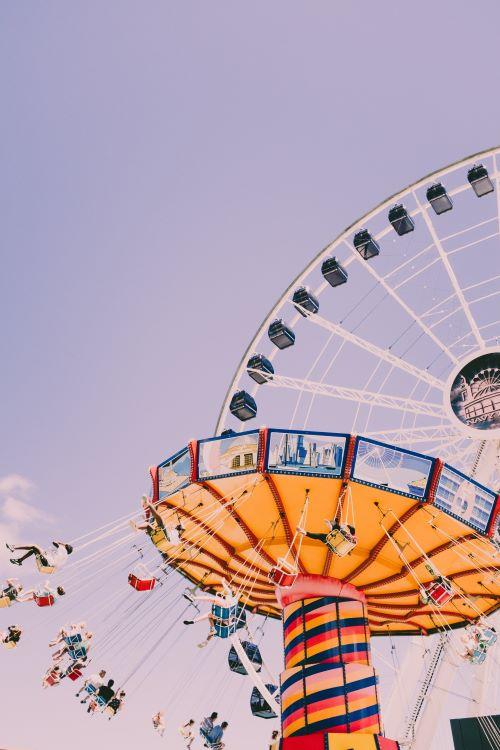 But the pier has much more to offer; the Chicago Shakespeare Theater, Chicago Children's Museum, and Polk Bros Park are all located at Navy Pier. Each of these sites offers a variety of fun activities for kids of all ages, no matter their tastes. Twice a week in summer, a free fireworks show takes place at the pier; in winter, visitors can explore the holiday offerings of the Winter Wonder Market.
Navy Pier is open 7 days a week. Entrance to the pier itself is free; rides and attractions are of varying prices.
Kohl Children's Museum
Located just outside of Chicago itself, Kohl Children's Museum is a must-see for any family with children under the age of 8, and must be added to the family-friendly activity bucketlist. Over 330,000 visitors visit the museum each year, and it's easy to see why. Every aspect of the museum has been carefully designed to help young children learn through play. The museum exhibits and staff offer a blend of activities to help young children develop physically, mentally, and emotionally. And, because the museum has been built to be 100% ADA compliant, those learning opportunities are available to all children.
Highlights of the museum include the Pet Vet exhibit, where children can take care of stuffed animals by examining them on child-sized operating tables or help them look their best at the grooming station. At the Ravinia Festival Music Makers exhibit, kids learn about not only the mechanics of sound and how to make it, but also the way music can impact their emotions. Perhaps the most unique exhibit available at the museum is the miniature Whole Foods Market, designed to encourage imagination and cooperative play as children pretend to be farmers, shoppers, or store clerks.
Kohl Children's Museum is open 7 days a week; tickets are $13 for adults and children. Senior tickets are $12; infants under 12 months of age are permitted free entry.
Maggie Daley Park
On a sunny day, there's no better place for a day of free family fun than Maggie Daley Park, located in the middle of the Loop. For parents and older children, the park offers a climbing wall, tennis courts, mini-golf, rollerblading, and scooter rentals. However, the real highlight of the park is the 3-acre play garden designed for kids under 12.
The play garden is modeled after fantastical children's literature like Alice in Wonderland and Charlie and the Chocolate Factory; play experiences and equipment are intertwined with the landscape of the garden, encouraging a sense of exploration and wonder as children roam from one play area to the next. Six different areas make up the play garden, each offering a unique experience for children to enjoy, from The Sea, an area centered around a metal play ship with plenty of space for kids to climb and explore, to The Enchanted Forest, a network of pathways designed to encourage sensory exploration. The showstopper of the play garden is the Slide Crater; this area offers a variety of slides for kids to experiment with, from a twisty spiral slide to one wide enough for multiple kids to go down at the same time.
Maggie Daley Park is completely free to visit and is open from 6 A.M. - 11 P.M. every day of the year.
Chicago Sports Museum
For kids who just can't get enough of basketball, hockey, baseball, or any of the other sports played in the Windy City, the Chicago Sports Museum is a dream come true. On display is plenty of memorabilia for sports buffs, from jerseys to championship rings. Visitors can test their vertical jumps against Michael Jordan's, learn about throwing a curveball from Cy Young, and try on a replica of the largest Superbowl ring ever made. Scientifically minded kids can examine cross-sections of baseballs and Sammy Sosa's corked bat; for kids who are curious about the famous 108 year World Series curse, there's an entire room dedicated to its history and lore-- and another one full of memorabilia from the Cubs' long-awaited 2016 win.
The Chicago Sports Museum is open 7 days a week. General Admission is $10; tickets for children between 4-11 are $6, and children under 3 get in free.
Millennium Park
The most popular tourist attraction in all of Illinois, Millennium Park is mainly known for being the home of the Cloud Gate sculpture-- or, as it's more commonly known, The Bean. This central gathering spot for Chicagoans and tourists alike will excite and inspire the whole family. Kids and parents alike will be in awe of the 3 story statue and the views of the city it reflects. The park also offers rock-climbing, the Lurie Garden, the Crown Fountain, and, during the holiday season, an ice-skating rink, and a massive Christmas tree.
Admission to Millennium Park is free; it's open daily from 6 A.M. to 11 P.M.