Coffee Roasters in Chicago: Your guide to the best coffee in town
Nothing starts your day better than a good old cup of coffee along with a copy of the local newspaper. It has become a cornerstone of every breakfast quite effortlessly. Many roasters have seen the immense potential of coffee as a business and have decided to ride the wave. Funnily enough, we are currently in the third wave of coffee. The first and second Coffee Waves dated back to the 1800s and 1970s respectively. As we are in the third, where coffee-making is considered more of an art form rather than a mere hot beverage, it becomes necessary to identify which are the best coffee roasters in town.
If you ever do find yourself in Chicago, here are the top coffee roasters in town:
Bridgeport Coffee Company
This famous cafe is one of the top coffee roasters in Chicago, and no list would be complete without mentioning this. They are famous for sourcing beans ethically and keep a high standard for the flavor of the beans. At one point, it was named as the top coffee roaster in Chicago. The Hardscrabble Espresso Blend is to die for, and if you're willing to try some finger-food, breakfast sandwiches and muffins are also highlights. The rustic furniture gives off a homely attic vibe that adds to its authenticity.
Big Shoulders Coffee
Located in River West, Big Shoulders Coffee is another crowd favorite. The cafe serves four distinctive varieties of coffee along with other caffeinated drinks. Sadly, the only available food is limited baked goods that disappear as fast they appear. The Ethiopia Limu pour-over is famous around here and if cinnamon fits your taste buds go for the Horchata Latte. The staff is known to be quite friendly, and the cafe serves as a perfect spot to hang out with friends and family.
Ipsento Coffee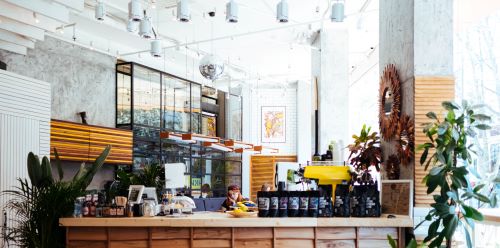 The name of the cafe quite suits the place, and the ambiance complements it, to say the least. Ipsento is Latin for self-discovery, and the cafe seeks to do just that. The beans are sourced globally and brewed right in the cafe. The funky furniture and relaxed settings encourage cozy gatherings of family and friends. It is famous for its Ipsento Latte that is bound to give you a dash of self-discovery. The Kamut grain mini-donuts get sold out pretty quick, so give that a shot too.
Heritage Bicycle Company
This coffee roaster combines two aspects that loved by almost everyone and anyone. If you are a cycling enthusiast and also prefer a hot cup of coffee, the Heritage Bicycle Company is the place to go. The store is part-cafe and part-cycle store, selling anything from hot coffee to bicycle gear. The Ethiopia Kurimi and cold brews are well known, while you can also get yourself a flat fix and small coffee for $10. They have these stores located in River North, Uptown, and Lakeview.
Metropolis Coffee Company
Nothing speaks third-wave coffee than Metropolis Coffee Company, where coffee is an art rather than just a business. The company believes that the land that grows the beans deserve as much, if not more respect than the coffee it makes. They thus pay highly competitive prices for the beans directly to the farmers, and this has been a large reason for their popularity in the coffee scene here in Chicago. The Lakeshore Fog is a must-try if you find yourself visiting this praise-worthy cafe.
Metric Coffee Co.
The vintage Probat roaster from the 1960s brews some amazing coffee, we are told. The cafe holds public cuppings at 10:30 am every Friday. The best part? It's completely free. If you fancy educating yourself on coffee, head over on any Friday for some fun and some good coffee. They also offer in-depth workshops (paid) if you are interested. The Hellion Rabble-Rouser makes for an amazing single-origin cold brew that is a bestseller at the Metric Coffee Co. The cafe has branches at Logan Square, Wicker Park, and West Side.
Intelligentsia Coffee Millennium Park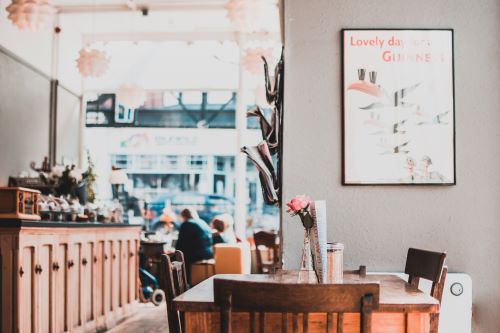 The roastery sports a post-industrial decor that brings out the rich heritage, which included pioneering the third-wave of coffee in the world. The Black Cat Classic Espresso is a crowd pleaser and is one of the must-try items on their list of amazing coffees. The cafe has been set-up at three locations, Lakeview, Wicker Park, and Andersonville. The cafe is also famous for having seasonal releases that add to the authenticity of this coffee brewery.
Fun Fact: The owner of Metric Coffee Co. is an Intelligentsia alumnus.
Four Letter Word Coffee
This has its origins in Turkey, and the cafe has since opened up on West Diversey Avenue. The cafe screams friendship with the interiors and also with every cup of coffee they serve. They offer pour-over, drip as well as espresso and obviously, Turkish-style coffee. The place is decorated to give you Turkish vibes without losing the Chicago touch, and it's a definite win for the customers.
Fairgrounds Coffee & Tea
This is the only cafe on our list that does not prioritize coffee as their flagship item. Here, customers are treated to a 50/50 menu of exotic and refreshing coffees and teas. As luck would have it, Fairgrounds have seen their coffee game take off, and returning customers prefer cups of coffee over tea (no offense to the tea lovers, to each their own). The interiors and the entire ambiance make for picture-perfect Instagram posts. Fairgrounds Coffee & Tea have two locations in Chicago and offer eight rotating cold brews giving customers a good variety of coffees to choose from.
Groundswell Coffee Roasters
Last on our list of top coffee roasters in Chicago is Groundswell Coffee Roasters. These roasters entered the game in 2015 and have gone on to open up many small cafes spanning three locations, Ravenswood, West Loop, and the famous Lincoln Square. The crowd-favorite must-try brew is Kyoto-style Cold Brew that has many coming back for seconds on the same trip. The cold brews have their origins in Japan and customers are always fascinated to see the Oji slow-drip towers in its full functioning.
You can't go wrong with picking one of these coffee roasters in Chicago. Each of these has their specialties, and if any of these caught your eyes particularly, make sure you head down there ASAP.
If coffee is not your thing and you want to try out some of the best bars in town, click here to read more about the top 11 bars in Chicago.